Mindfulness Meditation
Tuesday, April 22 @ 6 pm
West Community Library at St. Petersburg College
Room LI101
6700 8th Ave. N

How to practice mindfulness meditation - the basics.
Registration is required - 727-341-7198.



Meet Davon Miller
Sat, April 26, 1:00 – 3:00pm
South Branch Library - 2300 Roy Hanna Dr. S


Author of:
Mr. Tickety-Toc Clock,
Goodnight Mr. Clock
Presented by Friends of the South Branch Library

Sunshine State Author Augusta Scattergood
Main Library - 3745 9th Ave N
Saturday, April 26 - 2 pm

Friends of Main Library present an afternoon with Augusta Scattergood. She will be discussing her Sunshine State Award nominated book for 3rd - 5th graders, Glory Be. At the end of this free event, copies will be available for purchase and signing.
For more information, please call 727-892-5296.

Celebrate Children's Book Week at the Annual


Saturday, May 10 - 2:30 pm
James Weldon Johnson Community Library - 1059 18th Ave S

FREE book for every child in attendance!
Winning bookmarks will be announced.
Adults must be accompanied by a child.
Call 727-892-5296 to register.
(Dairy free options will be available.)


The Friends of Mirror Lake Library
invite you to an evening with author
Eric Deggans
Mirror Lake Community Library - 280 5th St N
Monday June 16th from 6:00 - 7:00 pm

Eric Deggans is NPR's first full-time TV critic, appearing on broadcasts such as Morning Edition and All Things Considered, along with providing an array of written contributions to NPR.org.
He previously worked for the Tampa Bay Times as TV/Media Critic and
in other roles for nearly 20 years.

He is also the author of Race-Baiter: How the Media Wields Dangerous Words to
Divide a Nation, a look at how prejudice, racism and sexism fuels some elements of some elements of modern media, published in 2012.

The Friends will host a reception for the author and guests in the community room from 5:30 - 6:00 pm. Books will be available for purchase, and refreshments will be served.

Please call 727-893-7268 for more information.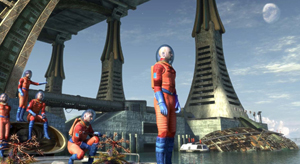 Speculative Fiction Book Club
Main Library - 3745 9th Ave N
1st Tuesday - 6:30 pm
Speculative fiction is a broad literary genre encompassing any fiction with supernatural, fantastical, or futuristic elements.
May - Off Armageddon Reef by David Weber
Please call 727-893-7724 for more information.
Modern Classics Book Club
Main Library - 3745 9th Ave N
3rd Thursday - 6:30 pm

March - Fahrenheit 451 by Ray Bradbury
April - Grapes of Wrath by John Steinbeck
Please call 727-893-7928 for more information.

Roll Over and Read!

Practice reading with one of our our reading therapy dogs! Children can practice their reading with a patient, attentive friend in a relaxed atmosphere. Our four-legged reading tutors will help children gain confidence in their reading.
Call for more information and to sign up for a 15 minute session.
| | | |
| --- | --- | --- |
| Johnson Branch | 1st Tuesday of the month @ 4:15 | 893-7113 |
| Mirror Lake Library | 3rd Wednesday of the month @ 3:30 | 893-7268 |
| Main Library | 1st Monday of the month @ 3:30 | 892-5296 |
| North Branch | 3rd Tuesday of the month @ 3:30 | 893-7214 |
| South Branch | 1st Friday of the month @ 3:30 | 893-7244 |
| West Community | 3rd Tuesday of the month @ 3:30 | 341-7199 |
*Dogs are part of the Therapy Dogs International reading program